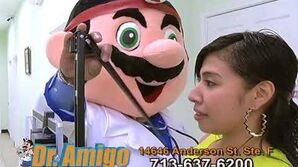 Dr. Amigo Family Clinic is a clinic located in Houston, Texas. They are well known for their self-titled mascot, Dr. Amigo, which used to previously be a modified version of character Dr. Mario. However, the appearance of the character has drastically changed later on, possibly due to Nintendo finally taking legal action.
The advert was produced by Multimedios Houston, who has the original video unlisted on their YouTube channel but can still be viewed via the original link. It's also on the Cursed Commercials playlist.
Synopsis
[
]
The commercial features a person in the Dr. Amigo mascot costume, doing typical doctor stuff to real people. There is also a song playing in the background.
Why It's Cursed
[
]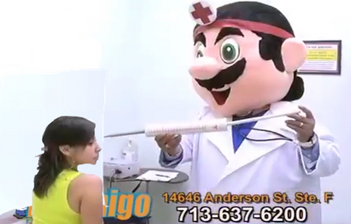 As previously stated, the commercial used a Mario rip off as the clinic's mascot, which is why it became so popular and cursed. Also, the needle in the ad is GIANT!